Mike Scott & Band streken alsnog neer in België om hun nieuwe dubbele album "out of all this blue" aan het publiek voor te stellen. Met statige tred betrad hij het podium in een net pak, bijhorende hoed en sjaal, én met een bril. Ook rocklegendes worden een dagje ouder. Na het openingsnummer stelde hij z'n nieuwe CD voor als "we're gonna play some songs of the new double album, with 75% love songs and some other stuff"; meer moet de man echt niet zeggen : na ontelbare albums en evenveel pareltjes van songs is het samenstellen van een setlist een luxeprobleem geworden en zal hij eerder hoofdpijn krijgen van het idee welke songs te moeten schrappen. Het zijn er gewoon te veel.
Uit zijn laatste oeuvre herkenden we "if I was your boyfriend", een stevig rockend ritme in "morning came too soon", The Hammerhead Bar", het mooie "man, what a woman", "Hiphopinstrumental (Scatsman)", "Nashville, Tennessee", "if the answer is yeah" en het magisch mooi uitgesponnen "Love walks in".
Verder koos hij uit vroeger werk nog "has anybody seen Hank", "Medicine bow", "How long will I love you", hun overbekende"The whole of the moon", een up tempo rock versie van "This is the sea" en de classic "a girl called Johnny". Wij zagen een zeer degelijk optreden, met veel folk en rock, met Mike Scott als dirigent van een steengoede band met Steve Wickham (viool en ook present bij vroeger werk), een hyperactieve Brother Paul aan de keyboards, 2 drummers (Ralph Salmins en Jon Green), backing vocals Jess Kavanagh en Zeenie Summers, Aongus Ralston on bass, Bart Walker on guitar. Ondanks de vrolijke sfeer en het hoog meezinggehalte miste ik toch wat de bezieling en magie van weleer. Nummers als "Pan within" of "Fisherman's blues" en "return of Pan" ontbraken dan ook op de setlist. Kwatongen spreken van te sterk gepolijste rocknummers naar Amerikaans model, maar dat vloekt dan toch erg met zijn eigenzinnig Scottish accent.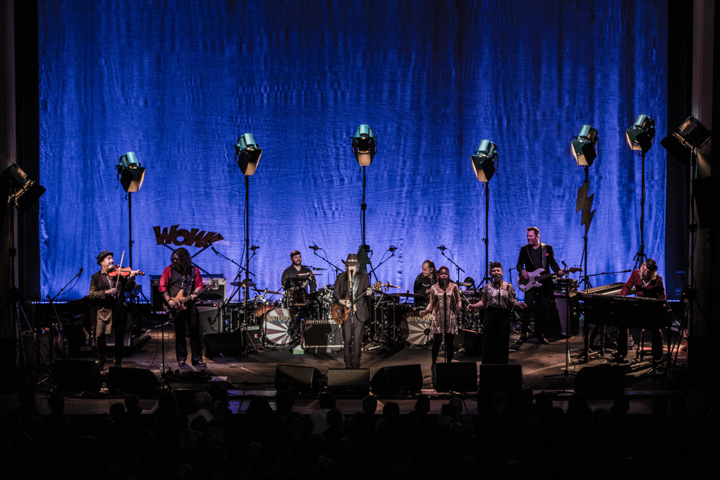 Zoals gezegd, wie sinds 1983 in de music business actief is en zowat 13 albums op 34 jaar uitbrengt, heeft een luxe probleem om een setlist van anderhalf uur samen te stellen.
Tekst en foto's : Raf Degeest
Meer artikels van deze auteur:
Comments
comments