Read Time:
2 Minute, 18 Second
Saarloos is een nieuwe Ierse band bestaande uit de veelgeprezen songwriters Craig Gallagher en Brian McGovern (voormalig Fallen Drakes). Nadat ze een formidabel songwriting-partnerschap hadden gevormd, hadden ze een verlangen om hun liedjes samen op het podium uit te voeren. Samen zijn ze al goed voor 4 miljoen plays op Spotify en beide hebben samen reeds met artiesten zoals The Coronas, Daniel Bedingfield, Picture This en Bon Jovi opgetreden. Vanavond was het in het broeierige Het Depot de beurt aan Gavin James.
"We're a three-piece band from Dublin. We've been together about six months. We all have similar tastes in music and have known each other a long time. Andy and Craig went to school together and Brian and Craig met on the pub scene in Dublin (Craig likes to think he brought us all together!)"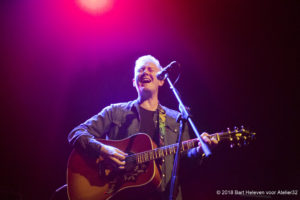 "Brian and Craig were two solo singers doing their own thing. After doing years of cover gigs, they decided to create a band. Andy was a late addition to the band, he knew the guys a long time, so he fitted in nicely. We're very fortunate that we get along together – it makes it easier when you've to spend ten hours a day in a room going over and over songs."
Dezer dagen toeren de Ieren door Europa met shows in Amsterdam, Rotterdam en drie Uitverkochte avonden in Dublin. Hun debuutsingle "Changes" werd gereleased op vrijdag 9 mei en werd geproduced door de in Londen gevestigde producer Ollie Green.
Saarloos opent voor Gavin James voor alle aankomende Ierse en Europese tours vanaf 30 mei.
"Like every great story, our debut single 'changes' started with a cup of tea! Literally, Craig was making a cup of tea when the chorus just popped into his head. He recorded it on his phone (well; after finishing the tea). A couple of days later, him and Brian sat down and it was finished within a couple of hours."
The setlist:
Sophie | Fire Is Love | Free Fallin'| Alive | Trust In Me | Changes | Girl From NY
Foto's: Bart Heleven
Tekst: Bart Heleven
Meer artikels van deze auteur:
Hits: 106
Comments
comments